The TOaG Jazz Clinics at Oakland High School
An immersive educational collaboration between
OHS Music Department head David Byrd
and The TOaG Quartet
onward wemarch
The TOaG Jazz Clinics have returned to Oakland High School for 2022!
We are so grateful to the steadfast support of our community partners, our teachers, and our students. With new special guests, new material, and a program uplifting the power and resilience of creative improvisational music, we are shining!
2019 TOaG Jazz Clinic Final Project
Airship Laboratories, Richmond, CA
Our Mission
"To curate jazz clinics at Oakland High School in partnership with music department head David Byrd, bringing working jazz musicians from the community into the classroom to perform for, engage with, and instruct students in a side-by-side environment.  Clinics are structured to provide a positive environment with hands on training in musicianship, theory, improvisation, professionalism, technique, and active listening; while also demonstrating the rewards of creative problem solving, self-organization, self-discipline, and respectful practices.  The program culminates in the opportunity for the students to record a selection of curriculum repertoire at the one and only Airship Laboratories recording studio, allowing them to expand their portfolio for future educational and professional endeavors, as well as experience a moment of life as a working musician. Finally, this program seeks to establish a sustainable model to pay working artists a living wage for providing their services in the communities who need it most."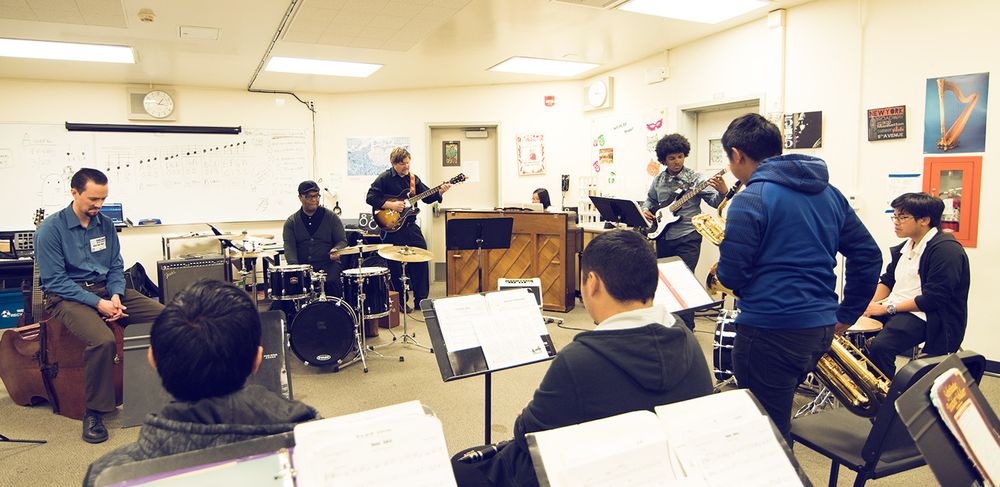 The need
The historically underfunded Oakland High School is a Title 1 institution that has been serving the Oakland community for 150 years, yet only received a comprehensive instrumental music program 6 years ago.  Battling state receivership, district wide deficits, and a lack of internal funding, Mr. David Byrd has single handedly built up the program over that period to include a competitive orchestra program that has won several awards in and around the Bay Area. However, his jazz program has not had long term access to mentorship programs or support, and would benefit greatly from the individualized attention that can be provided by professional jazz musicians, working side by side students on a consistent basis. Further, the well documented history of arts education not being supported in schools that represent our communities of color demands that we go above and beyond existing school programming, to provide the quality of service that the next generation of musicians deserve.